Lara Lake Primary School first opened its doors in 1865 and has a long and proud history of quality education and care for all students. It celebrated its 150th birthday in 2015 by paying respect to all of the good work that had come before.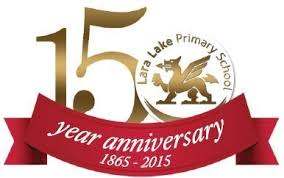 The Story of Our School
Our school vision is for each and every child to be literate, numerate, curious and caring and we actively promote friendliness, teamwork and skillfulness amongst all staff who influence our children. We are constantly striving to improve and place the needs of the students and the care for each other at the centre of what we do.
The original building was constructed in 1864 for 40 students and, upon opening, was attended by 51 pupils. Mrs. Watson was the school's first teacher. Our name is derived from the nearby lakes, however, an underground tank and pump was requested, "...as the lake is quite dry and there is no fit water for the children to drink within a mile of the school house". In 1869, a water tank was completed which sated the thirsty throng. In 1873, a new teacher's residence and school building with space for up to 120 pupils were added to the existing timber building. The school progressed strongly over the next 100 years. In its centenary year of 1965, Lara Lake Primary School had a student population of 237.
A significant event occurred in 1966 which helped define our school, its values and its emblem. At approximately 9.15am on Friday 21st October, Merthyr Vale colliery tip, situated on the mountainside overlooking the village of Aberfan in South Wales, United Kingdom, slipped and descended upon Pantglas Junior School like an avalanche; destroying both the school and 20 nearby houses which lay in its path. It rendered other houses in the vicinity unsafe for habitation. Half a million tonnes of coal waste, in a tidal wave 40 feet high, levelled the unsuspecting village. Being the last day before term break; school was in session. One hundred and forty four children and adults died – 116 of whom were schoolchildren at Pantglas, which represented half of its total student population, together with 5 of their teachers. This was a tragedy of monstrous proportion and it rocked the entire country. Upon hearing of this horrific tragedy, Lara Lake Primary School students provided assistance to the community of Aberfan. They raised money, wrote letters of empathy and encouragement, and generally offered much-needed moral support for the beleaguered Aberfan School and its survivors.
As a result of these efforts, the residents of Aberfan sent back letters of thanks, as well as pictures of the Welsh dragon – the symbol on the flag of Wales. Subsequently, Lara Lake Primary School adopted the emblem of Wales for the official school insignia; and it remains to this day.
In a tragic twist of irony, a large grass fire destroyed the main Lara Lake school building, along with much of the township, in 1969. Students began the new year with classes in the local hall and in the nearby Methodist Sunday School building. The community of Aberfan donated money to Lara Lake Primary School which was used to purchase an electric clock for each classroom. The two towns have forevermore been inextricably linked.
In June 1970, a new brick building, an administration area and 7 permanent classrooms for 190 pupils were all opened. Continuing its history of benevolence in tough times, in 1983 the pupils of Lara Lake sent money to a small western district school destroyed in the Ash Wednesday bushfires.
In 2004, the main buildings were upgraded and in 2009 a synthetic, all-weather oval and a gymnasium were added. In 2011, a new $3.1 million gymnasium was opened. This building included a Music Room, a Canteen and a full size Gymnasium.
In 2015, our proud school celebrated 150 years and held an enrolment of 660 students.
In 2017 the school received a state government grant of 1.8 million dollars for new classrooms a new library and a new staff room. Additional classrooms were also installed in 2019 to accommodate growing enrolments. The 2019 student population exceeded 750. The 2020 / 2021 population hovers around 750.
Lara Lake Primary School serves the growing area of Lara, a township with both the personalities and the needs of a rural and a commuter community. Lara's population is around 18,908 and is expected to continue its steady growth. Lara lies in the Windermere Ward within the Local Government Area of the City of Greater Geelong, the State Government electorate of Lara, and the Federal Government seat of Corio. It sits approximately sixty kilometres south-west of Melbourne and sixteen kilometres north of Geelong.