School Zone / Designated Neighbourhood Area

2024 Information Sessions and Tours occured in Term 2. Thursday 25th May, 6.30pm. Lara Lake Primary School is only able to accept enrolments from those families living inside our catchment zone. Please review the following links for further information. Please provide proof you live within our catchment. Contact the office for clarification. An Application to Enrol form is located under the heading 'Forms', further down this page.
https://www2.education.vic.gov.au/pal/enrolment/guidance/placement-policy
https://www.findmyschool.vic.gov.au/
Starting school | Victorian Government (www.vic.gov.au) Information for new prep students/families.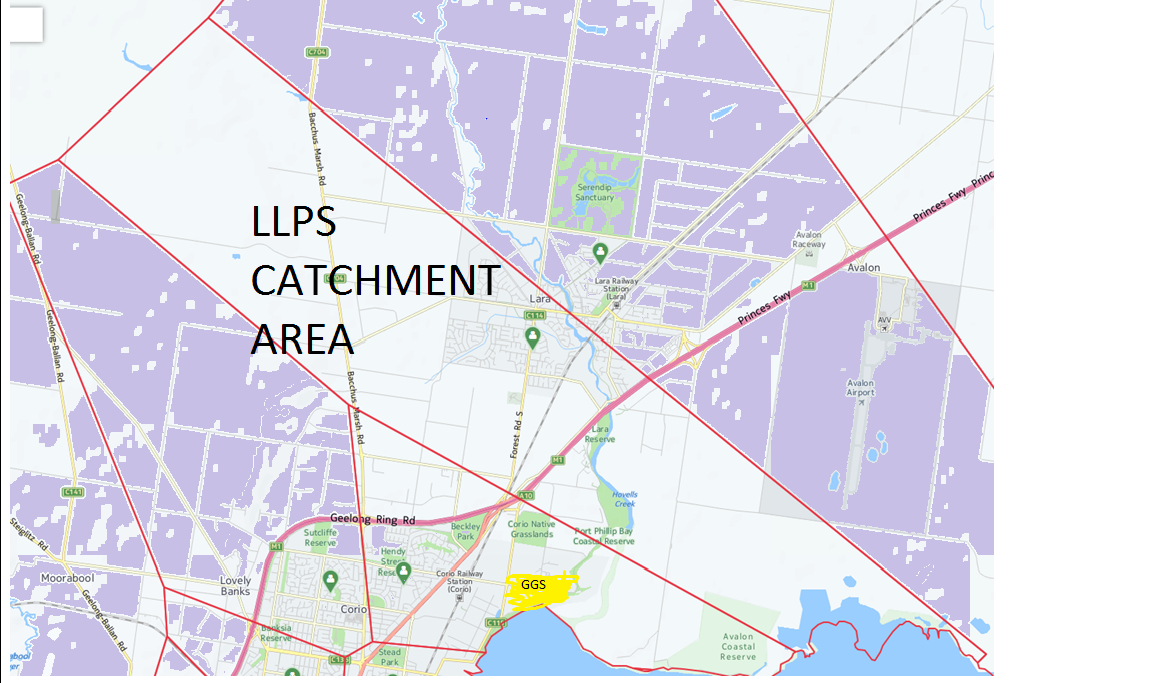 General Enrolment Process

Further information is available from the Lara Lake Primary School office if you require it.
Completing an enrolment form and providing a copy of the birth and immunisation certificates are a requirement of enrolment at Lara Lake Primary School. By law, primary schools are required to request and record information on the immunisation status of students prior to enrolment. Parents or guardians must provide an immunisation status certificate to the school regardless of whether the child is or is not immunised.

Only an Immunisation History Statement from the Australian Immunisation Register can be accepted as proof of immunisation status on school entry.
Documents produced by GPs or other immunisation providers are no longer acceptable as school entry immunisation status certificates.
2024 Enrolment Birthdate Range
Prep - 01/05/2018 - 30/04/2019
Year 1 - 01/05/2017 - 30/04/2018
Year 2 - 01/05/2016 - 30/04/2017
Year 3 - 01/05/2015 - 30/04/2016
Year 4 - 01/05/2014 - 30/04/2015
Year 5 - 01/05/2013 - 30/04/2014
Year 6 - 01/05/2012 - 30/04/2013
Prep Enrolment Process

New statewide timeline for Foundation (Prep) enrolments
2024 Information Sessions and Tours occured in May during Term 2.
A new statewide timeline for enrolling in Foundation (Prep) for the 2024 school year has been released. If your child is starting Foundation (Prep) in 2024, you will be able to apply to enrol your child in a Victorian government primary school from the start of Term 2, 2023 (Monday 24 April 2023). More information: Starting school | Victorian Government (www.vic.gov.au)
The timeline advises families when and how to enrol their child into Foundation (Prep) at a Victorian government school. The new timeline seeks to make the enrolment process simpler, clearer and fairer for families. The new timeline will apply for children starting Foundation (Prep) in 2024. All government primary schools, including P-9 and P-12 schools, will follow the new timeline. There is a virtual tour on our website, under the Enrolments tab.
The timeline will not apply to specialist schools. For information about how to apply to enrol your child in a specialist school, you should read enrolling in a school.
Enrolling in Foundation (Prep) | Victorian Government (www.vic.gov.au)
Lara Lake Primary School has a catchment zone. Please view Find my School to see if you are in our catchment and therefore eligible to enrol. You will need to enter your address, choose primary school, 2024 and Lara Lake Primary School.
Enrolment Forms - General Enrolment Through the Year

Below are links for the enrolment forms and other documentation to be filled out and handed in at the office for processing. It is a lengthy document, but necessary to ensure we are fully informing you of all aspects of school life and to gather important information. Uniform clothing items are to be purchased from Bellarine Uniforms, 162 Moorabool Street, Geelong Ph. 5221 9199. Bags are available from the school.
Forms

First, please complete an Application to Enrol in a Victorian Government School form - see link below.
Application to Enrol in a Vic Govt School 2023

Once we have processed your Application to Enrol in a Victorian Government School we will send through further enrolment documents as required. We will also request you provide:

Birth Certificate
Immunisation Certificate
Legal documentation - if relevant
Visa (VIVO) statement - if relevant
Parent Payments and Contributions
Parent Payments
Lara Lake Primary School is looking forward to another great year of teaching and learning and would like to advise you of Lara Lake Primary School's parent payment arrangements.
Schools provide students with free instruction to fulfil the standard Victorian curriculum. Lara Lake Primary School makes every effort to keep the cost of items and activities to a minimum and affordable for all parents where contributions are required.

At the beginning of the year Administration is open one day prior to the students commencing for parent enquiries, payments, as well as complete applicable government funding application forms. Copies of the Parent Payment Arrangement information are available on Compass, our school communication portal, for the commencement of the school year.
Parental contributions enable Lara Lake Primary to deliver a fantastic curriculum and learning environment.
Ready to Learn Stationary Packs - Our classroom teachers carefully prepare items that form our Ready to Learn Packs offered for purchase. Each year level reflects the items that can best support delivery of their planned program. For the 2023 school year we invite parents to purchase online through the school preferred supplier, information available on Compass. Contact the school for clarification if necessary.
Parents are also able to purchase items independently from other suppliers, and we ask that items are to be the equivalent items shown on the booklist.
There are a few payment options for families to use i.e. Compass, Bpay, Centrepay, cash, cheque, EFTPOS or credit card.
You can request a statement at any time.


Parent Payments and Contributions information
Located under Parent Resources, Parent Payments tab on the website.
Medical
Anaphylaxis and Medical Updates
Please keep the school (Administration / Teacher) informed about any medical issues your child may have, especially if their issue is anaphylaxis. Anaphylaxis is a serious allergic reaction which must be diagnosed by a doctor. All students diagnosed with Anaphylaxis must provide an Anaphylaxis Management Plan, prepared and signed by a doctor, to the school along with the relevant medication i.e. Epipen.
Epipen medication expiry dates will be monitored by the First Aid Officer and reminder notes will be sent home requesting updated medication. It is the parent's responsibility to replace all out of date medication in a timely manner and to keep the school informed of any changes to their child's management plan. At the beginning of each year we request updated Anaphylaxis Management Plans be provided. During the Christmas school holidays is an excellent time to book a medical check up for your anaphylaxic child with their doctor so that up to date plans can be provided to the school at the beginning of the following school year.
A reminder that it is the parent/guardian responsibility to:-
· Provide the ASCIA Action Plan
· Inform the School in writing if their child's medical condition, insofar as it relates to allergy and the potential for anaphylactic reaction, changes and if relevant, provide an updated ASCIA Action Plan
· Provide an up to date photo for the ASCIA Action Plan when that Plan is provided to the school and when it is reviewed
· Provide the School with an Adrenaline Auto injector that is current and not expired, for their child.